Learn All About Jaguar EV Charging with Jaguar Charlotte
Get your Jaguar EV charged up with helpful charging tips and information from Jaguar Charlotte. Whether you're plugging in at your North Carolina home or charging on the go around Charlotte, Jaguar makes it easy to replenish your EV's battery. Restore your Jaguar EV's all-electric range in a jiffy with fast and convenient charging solutions in and around Charlotte.
Home Charging
Charlotte commuters want to start every day with a full charge. Convenient at-home charging makes this possible. There's no place like home for your Jaguar electric car, which can be plugged in for the evening and be fully charged and ready for you in the morning.
Why Home Chargers Are the Perfect Way to Recharge Your EV
A professionally installed home charging station in your Charlotte garage leads to the fastest at-home charging times for your Jaguar EV or Jaguar PHEV. Jaguar Charlotte can help direct you towards local resources capable of installing a wall box or home charging point in your garage.
There's also an optional Domestic Plug Mode 2 charging cable to plug in your Jaguar EV.
Make an Inquiry
* Indicates a required field
Wake Up Ready to Go: By the time Charlotte drivers wake up, their Jaguar electric car or plug-in hybrid will have its range restored. Using a 7kW supply, the home charger can deliver up to 22 miles of range every hour.
Save Money Every Month: Offset rising gas prices with affordable home charging. Power costs using electricity to charge your Jaguar EV are lower than fuel costs. This creates more budget flexibility for Charlotte drivers, who can maximize their savings with an off-peak electricity tariff.
Quality Assured Charging: Home charging stations from industry-approved providers offer quality charging for any weather condition in Charlotte.


How Fast Can My Jaguar EV Recharge with a Home Charger?
Jaguar I-PACE EV: 292 miles in 9-13 hours with 7kW-11kW
Jaguar F-PACE PHEV: 33 miles in 2 hours, 16 minutes with 7kW
Jaguar E-PACE PHEV: 39 miles in 2 hours, 20 minutes with 7kW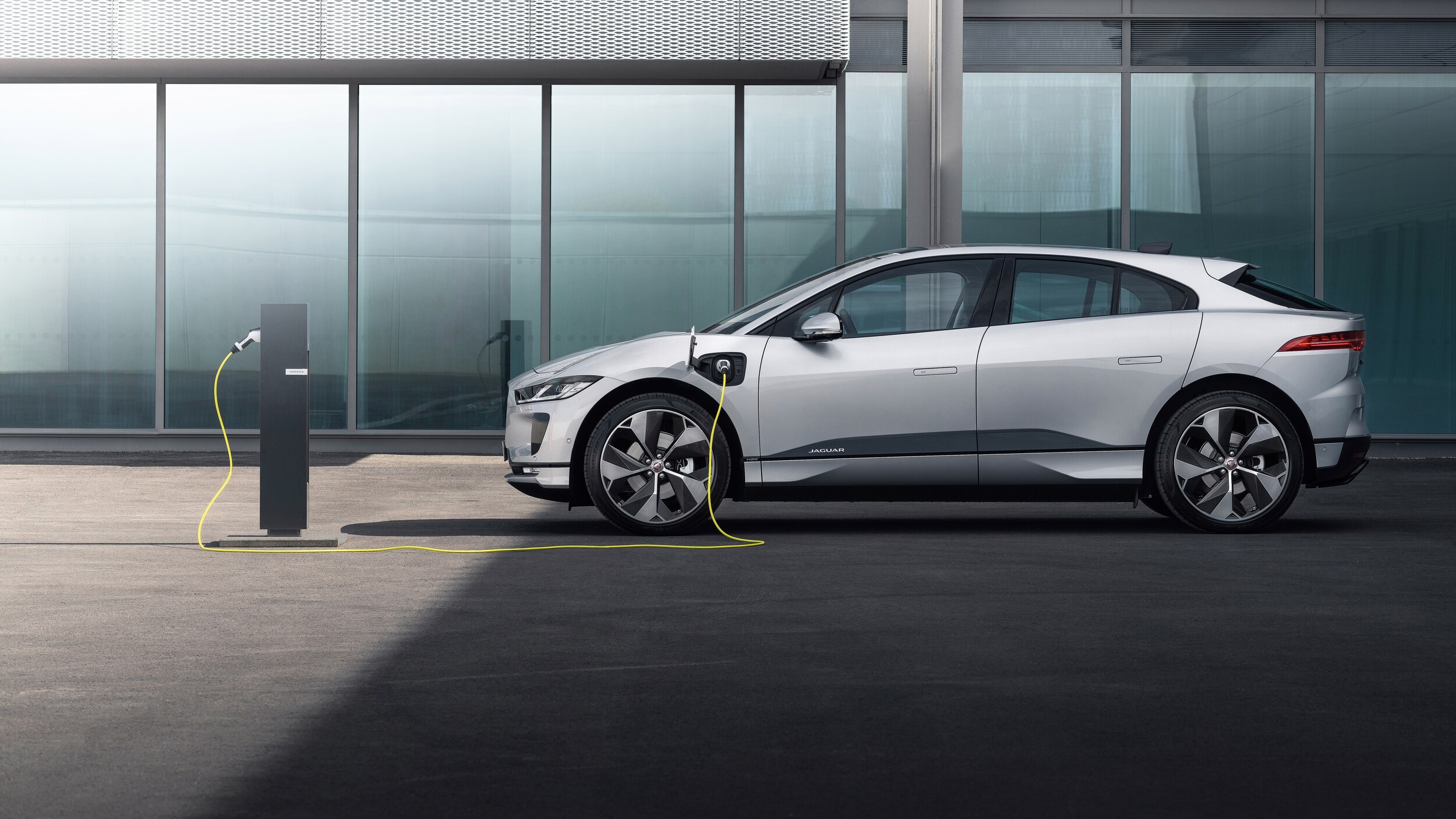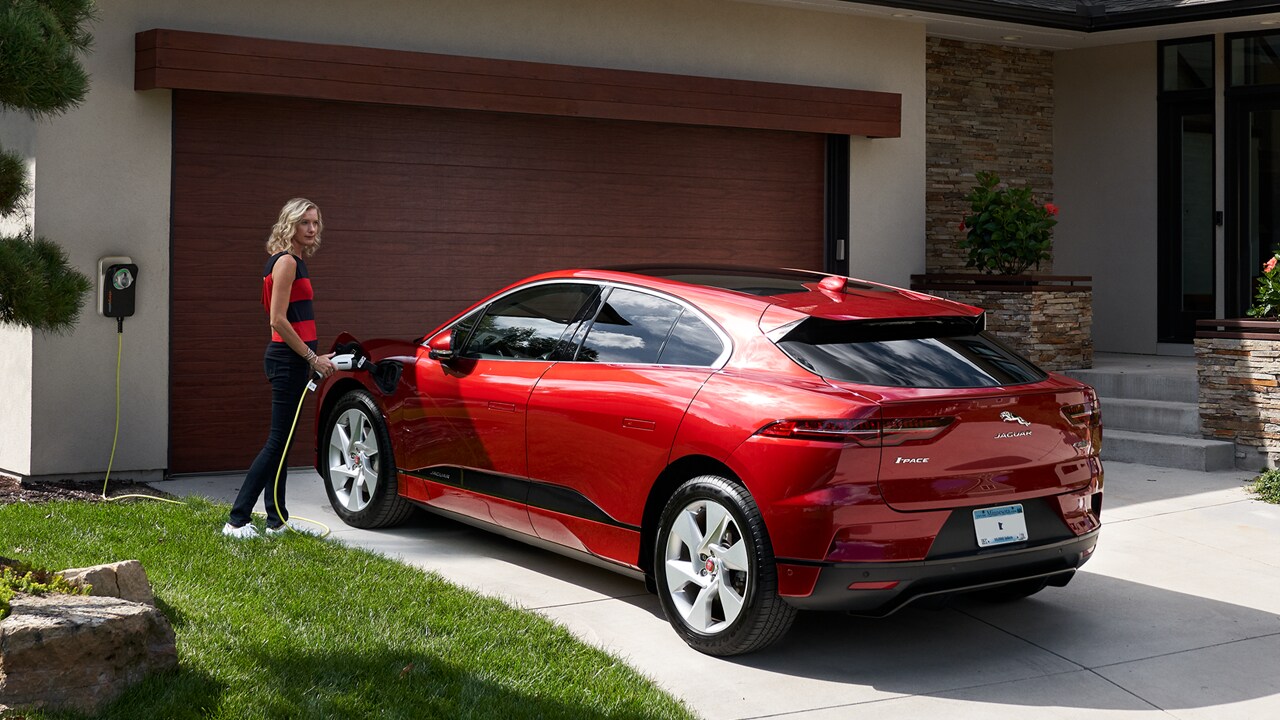 Installing a Home Charger In Your Charlotte Garage
1. Choose Your Provider
Begin the home charging installation process by choosing your home charger provider, which Jaguar Charlotte can help you find.
2. Suitability Survey
The home charging provider conducts a survey over the phone or online to determine property suitability for a wall box.
3. Schedule an Installation Date
Schedule a date to have your at-home charger installed in your Charlotte garage.
4. Installation & Demo
Your home provider will install the wall box and instruct you through charging basics when you're plugging in your Jaguar EV.
Recharging at Charlotte Public Charging Stations
You and your Jaguar aren't always at home. Your Jaguar luxury car goes where you do, and it will occasionally need extra juice. Public charging for your Jaguar is quick and convenient. Charlotte is home to more than 300 public charging stations, with several ports offering free charging. Charge your Jaguar EV on the go!
Difference Between AC Charging & Rapid DC Charging
Each Jaguar EV has a Combined Charging System that's compatible with slower AC charging speeds and rapid DC charging speeds. AC Charging points are often found in locations like gyms, retail parks, and car parks around Charlotte. Rapid DC charging points are typically located along Charlotte freeways and main roads.
Your Jaguar PHEV comes with a standard AC charging cable - the same one you use with your home charger - that's compatible with Level 2 AC charging points around Charlotte.
Need to recharge your Jaguar EV faster? Rapid DC charging points in Charlotte have Level 3 charging cables attached. You don't use your own charging cable. Rapid charging is the fastest way for Charlotte drivers to charge their Jaguar away from home.
How Fast Can My Jaguar EV Recharge at a Charlotte Public Charging Station?
Jaguar I-PACE EV: 292-mile range: Add 63 miles every 15 minutes of 50 kW Rapid DC Charging; Add 78 miles every 15 minutes of 100 kW Rapid DC Charging; 7kW-11kW AC Charging in 9-13 hours
Jaguar F-PACE PHEV: 33-mile range: 2 hours, 16 minutes with 7kW AC Charging; 80% charge in 30 minutes with 50kW Rapid DC Charging
Jaguar E-PACE PHEV: 39-mile range: 2 hours, 20 minutes with 7kW AC Charging; 80% charge in 30 minutes with 100kW Rapid DC Charging
Sign Up for a Public Charging Network for More Convenient Charging Around Charlotte
Some Charlotte public charging stations are free to use. Others are accessible through convenient payment methods. Charging fees for your Jaguar EV vary based on charging time with cost per hour and amount of energy used with cost per kWh. For the most affordable public charging, sign up with a public charging network that has several accessible charging points in Charlotte and along your driving route.
How to Find, Access & Pay for Charging In Charlotte
You're in control of all EV charging aspects with the Jaguar InControl app, which includes a Remote Charging feature. View charging status of your Jaguar EV or Jaguar PHEV. Then use the app or your Jaguar's navigation system to locate public charging stations around Charlotte. You can even set up a charging payment method.
Contact Jaguar Charlotte for EV-Related Questions
Have more questions about charging your Jaguar EV? Contact Jaguar Charlotte. Our team is happy to answer your questions. We can also hand you the keys to one of the latest Jaguar EVs from our new inventory and arrange a test drive around Charlotte.