Schedule Your Next Jaguar Service Appointment at Our Charlotte, NC Service Center
Routine maintenance ensures your Jaguar keeps the performance you love. Every new Jaguar car and SUV has a distinct roar that distinguishes it from the competition, and our service experts will keep it that way. We have the tools and skills to perform any repairs or maintenance for your Jaguar F-PACE, E-PACE, XE, XF, or F-TYPE.
Contact our team today if you have any specific questions about caring for your vehicle!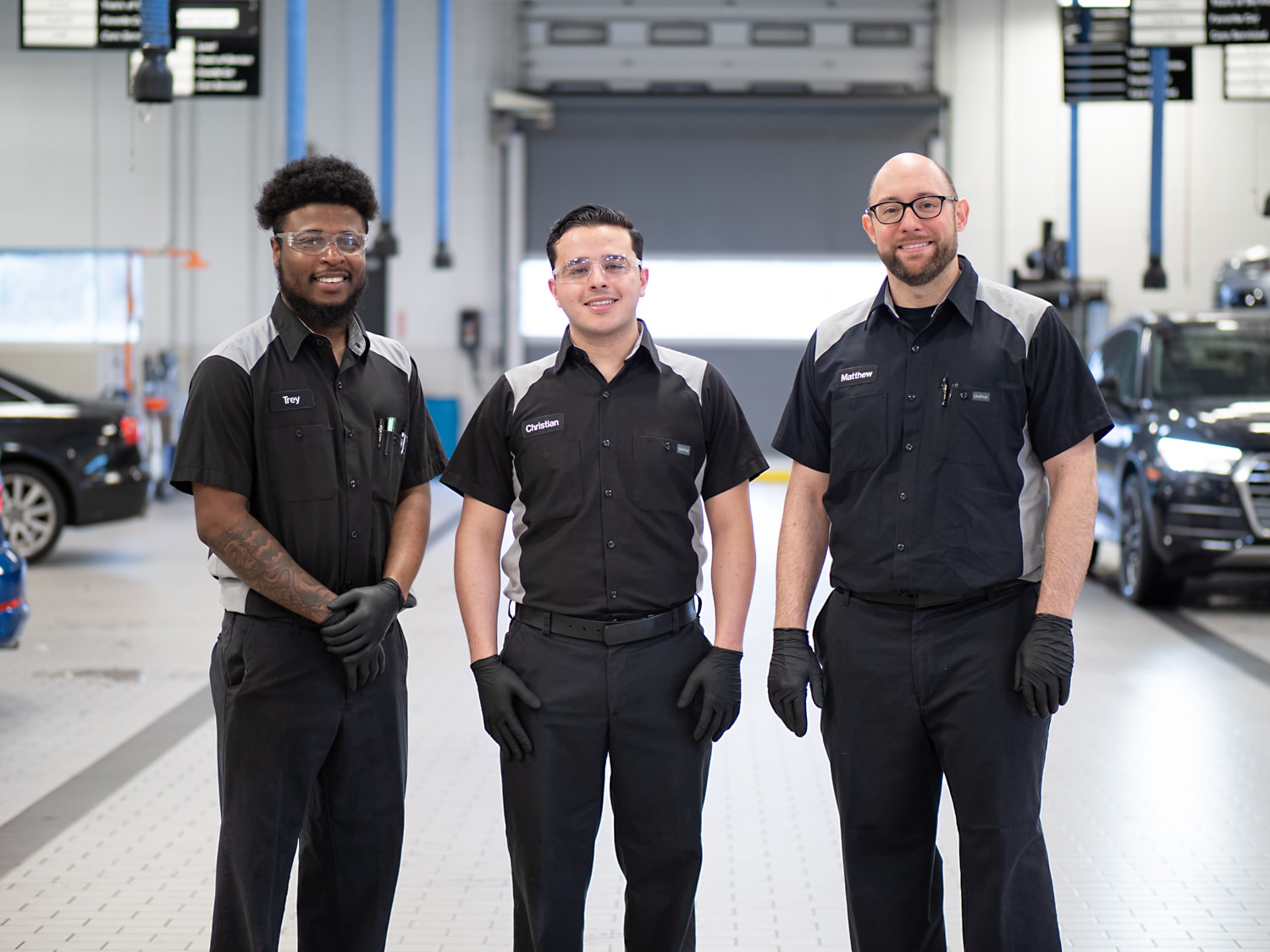 Routine Service Appointments for Your Jaguar
Routine maintenance covers parts that wear down quickly. We recommend oil changes, tire rotations, and brake inspections for routine service appointments. These services provide the most thrilling performance and prioritize safety for your time in the driver's seat. Ignoring general maintenance and routine services can cause issues during your drive and ruin the performance of your Jaguar.
Routine maintenance is essential if you want to enjoy every commute, errand, and road trip.
Top Reasons to Choose Our Jaguar Service Center
Independent auto shops spend their time working on various makes and models, but our specialty is the Jaguar lineup. Our experts know every inch of Jaguar cars and SUVs. We make routine service appointments quick, allowing you to get back on the road as soon as possible. Our team can work with you during any Jaguar service appointment, allowing you to have everything needed for your vehicle. From general maintenance to in-depth repairs, we want to be your first choice.
Whether you just took delivery of your new car and need help sticking to a maintenance schedule for your Jaguar XF, F-TYPE, or F-PACE, or you want to extend the life of your classic sports car as long as possible, our professionally-trained technicians can deliver top-quality service. Don't settle for anything less than the best when caring for your Jaguar; schedule your service appointment at Jaguar Charlotte!
Jaguar Services in Charlotte
Your driving habits can determine how often you need an appointment and what services you should prioritize. We'll work with you to learn about your Jaguar, the conditions you drive through, and how far you drive to ensure you can always expect the best performance. Our appointments cover common services like oil changes, fluid flush or top-off, brake repair, engine tuning, tire rotation or balance, alignments, battery service, and luxury automotive detailing. Reach out to our team if you want more details about any appointments we offer.
With premium seating areas, state-of-the-art service bays, and friendly professionals, you will know that Jaguar Charlotte is the best choice for your automotive needs.
Jaguar EliteCare
Jaguar EliteCare is a maintenance warranty that provides best-in-class coverage for new Jaguar vehicles. If you bought or leased a Jaguar from an authorized dealer, you can add this five-year/60,000-mile warranty. Complimentary scheduled maintenance appointments and 24/7 roadside assistance can keep you confident whenever you get into the driver's seat.
Want to know more about Jaguar EliteCare? Reach out to Jaguar Charlotte to see if it's right for you!
Online Service Scheduling Makes it Easy to Schedule Your Appointment
Use our service form to find a Jaguar service appointment at the most convenient time. You only need to input a few details about your vehicle, the required services, and your availability for our team to get started. Explore our website and see everything we can do to ensure you get the most out of your new Jaguar.
Your privacy is important to us.
Jaguar Corporate takes your privacy seriously and does not rent or sell your personal information to third parties without your consent. Read our privacy policy.
Hours
Monday

7:30am - 6:00pm

Tuesday

7:30am - 6:00pm

Wednesday

7:30am - 6:00pm

Thursday

7:30am - 6:00pm

Friday

7:30am - 6:00pm

Saturday

8:30am - 4:30pm

Sunday

Closed