Finding the Right SUV to Suit Your Lifestyle: The 2021 Jaguar F-PACE vs the 2021 Audi Q5
When you're looking for an SUV that suits your needs, the 2021 Jaguar F-PACE makes sure it will be exciting and innovative. You shouldn't need to settle for anything less than the best when it comes to choosing your next SUV, which is why we want to give you a closer look at some of the most popular choices so that you can decide which you want in your driveway.
Our comparison looks at the most popular traits and features of each model to give you the clearest view when buying a new SUV. Our team has researched each model so that you don't need to, making our website the only place you need to visit to determine if the 2021 F-PACE or 2021 Q5 should be your next vehicle. We encourage you to reach out to our team after reading the comparison so that we can get you into the luxury SUV that you and your family will love. 
We want to show you how the 2021 Jaguar F-PACE and 2021 Audi Q5 are impressive models that you will want in your life. Our team looks forward to giving you detailed information about each model, ensuring every errand, commute, and road trip will be more enjoyable.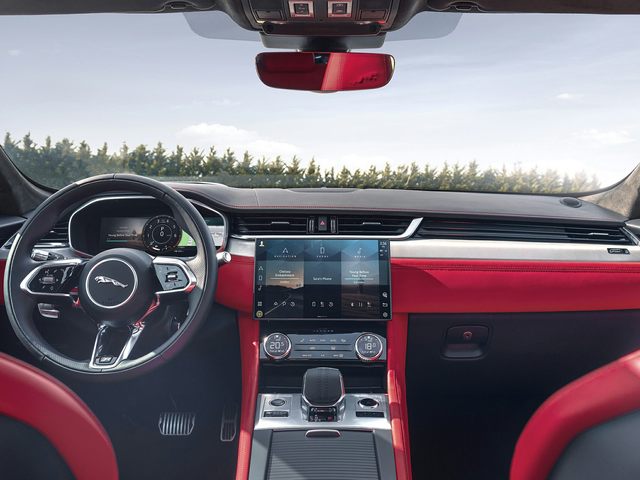 2021 Jaguar F-PACE vs 2021 Audi Q5
If you're looking for more cargo space, you'll need to choose the 2021 Jaguar F-PACE instead of the 2021 Audi Q5.


The touchscreen of the 2021 Jaguar F-PACE is larger than the screen that comes on the 2021 Audi Q5, allowing you to have the easiest access to all your media, apps, and settings.


You can upgrade the 2021 Jaguar F-PACE to have more power than the 2021 Audi Q5, making it a more exciting model for every commute, errand, and vacation.
 
There is an eight-speed automatic transmission equipped on the 2021 Jaguar F-PACE, while the 2021 Audi Q5 only comes with a seven-speed automatic transmission.


Both models can come with advanced features like a head-up display to ensure you have access to all the essential information of your drive.


You will have all-wheel drive as a standard feature of the 2021 Jaguar F-PACE and the 2021 Audi Q5, making sure you don't need to pay more to have the best possible traction and control.
 
Each model comes equipped with Apple CarPlay® and Android Auto™ standard to make smartphone connectivity simple and straightforward


The JaguarDrive Control system and Configurable Dynamics of the 2021 Jaguar F-PACE gives you the right performance for any occasion, while Audi Drive Select in the 2021 Audi Q5 is similar but doesn't have the same adjustability as the new Jaguar.
 
The 2021 Jaguar F-PACE comes equipped with a 3D Surround Camera to help you see completely around your vehicle,  while it is an upgrade on the 2021 Audi Q5